Game Changer for Development?
Final Project: Jan Minami
Our Food, a community nutrition network
Digital Artifact: Graphics and flyers to be used in the program.
Click on the digital artifact below for more detail, or find the pdf file here. Use the links to the right for individual layouts.
Click here for a description of the course for which this was created, and click here for the written final project.
If you've come across this page fortuitously and are interested, reach me here.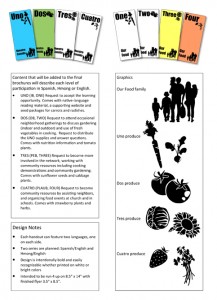 LINKS TO DIGITAL ARTIFACT
LINKS TO INDIVIDUAL LAYOUTS
LINK TO FINAL WRITTEN PROJECT