STRATEGIES AND BEST PRACTICES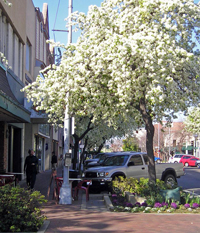 You don't need to reinvent the wheel when it comes to Downtown revitalization, but you do need to find the ideas that best suit your Downtown. These ideas come in four major categories:
Planning and design
Public/private collaboration
Placemaking
Activation
AMI Concepts is ready to help you revitalize your Downtown. From concept formulation to ongoing management, we can help you succeed.
We can get you started:
Needs analysis
SWOT analysis
Public/private engagement (see separate section)
Grant writing
Project development

 Clean and safe program
 Public art program
Downtown gift cards
Merchant incentives
Parking solutions

Event creation

Festivals
Parades
Farm markets
Merchant events (sidewalk sales, window contests)
And we can keep you on track:
Business creation, retention and expansion (see Businesses)
Management of

Business District
Clean and safe program
Festivals and events
Grants
Projects

Board development

Board training
Mission and vision statements
Bylaws
Policies and procedures
Get started by contacting us by email or phone (559.859.1763).