WE'RE ALL IN THIS TOGETHER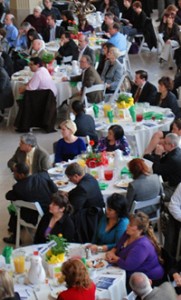 While bold visions abound, success is generated by taking those creative ideas and melding them together with the necessary organizations and people.
Stakeholders working together can join their city in creating public/private partnerships, usually taking the form of business improvement districts. Two important factors have been proven over the years to be cooperation and transparency. Private and public sectors build a collaborative relationship through an open process – one that establishes "give and take" on  sides.
AMI Concepts can help you build a variety of public/private partnerships, with a specialty in PBID formation.
We can facilitate:
Proper preparations, considering the levels of public impact: inform, consult, involve, collaborate, empower
Creating a shared vision, including initial creation and implementation strategies
Identifying key players, their needs and their perspectives
Understanding of risks and rewards
Construction of a framework to coordinate decision making
Tools and methods to secure ongoing commitments from all parties
Support and assistance of leadership
Establishment of clear communication channels
Negotiations based on fairness
Assurance that trust is a key factor
Get started by contacting us by email or phone (559.859.1763).