GOVERNMENT OF THE PEOPLE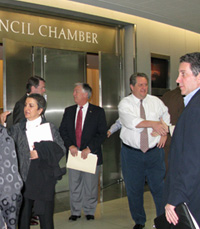 When confronted with the local impacts of regional, national and global issues, cities are making citizens part of the solution. The key to engaging citizens is expanding opportunities for participation, and ensuring transparency and accountability.
We can help you identify:
Best practices for your community
Stumbling blocks
Appropriate citizen organization
Useful metrics for measuring success
And we can organize and coordinate:
Meetings of interested parties or identified organizations
Processes to get you started
Service provision models
Support database
Ongoing engagement activities
Finally, we can present your pitch to a City Council, a nonprofit board, a citizens group, a bank president, or the media.
Get started by contacting us by email or phone (559.859.1763).